October 9, 1955 – October 23, 2016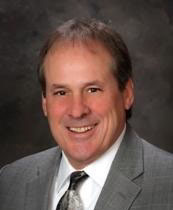 Darrell Uptegraft, an attorney known among the Kitsap County legal community for his upbeat personality and generosity of spirit, died at the age of 61, his life cut short after a three-year battle with ALS. A former partner with the Law Offices of Ryan, Uptegraft & Montgomery, Inc. P.S., Silverdale, Washington, Darrell passed away peacefully on Oct. 23, 2016, with his wife Kacey and his closest family and friends by his side.
Darrell was an Eagle Member of WSAJ and passionately represented his clients. Throughout his 31 years of practice, he represented personal injury clients and thoroughly enjoyed helping them. He was a creative attorney and had an ability to connect with others. His love for life was infectious and helped to create a firm atmosphere that was filled with fun, laughter, and cherished memories.
Ashley Armstrong, Silverdale attorney of Ryan, Montgomery & Armstrong and WSAJ Eagle Member, treasures the time she spent working with Darrell over several years. In reflecting on her work with Darrell, Ms. Armstrong explained, "Working with Darrell was one of the greatest honors of my career. He was a brilliant attorney who took great pleasure in coming up with unique and creative solutions to legal issues." Most importantly though, Ms. Armstrong notes that "Darrell was loved by his clients, a legacy we should all hope to leave behind."
In 2013, Darrell was diagnosed with ALS. Throughout this time, Darrell continued to be positive, energetic, and full of life. Bremerton attorney, Paul Fjelstad described, "Darrell was one of the most positive people I have ever known. All the time, even when faced with his final challenge. He always had a smile; it was always a joy to be with him; he was always generous. I wish everyone could be more like him. I wish I could be more like him."
His upbeat personality and generosity of spirit made him a beloved member of the Kitsap County legal community. In 2016, the Washington State Bar Association Board of Governors awarded the "Local Hero" award to Darrell. Upon receiving the award, Darrell said, "The real heroes here are my friends who have helped me throughout this process. It is said someone can share their time, their toil or their treasure. I have been the lucky recipient of all three from my great friends."
Jeff Tolman, Poulsbo attorney of Tolman Clucas, describing the experience, said, "the governor next to me was sobbing. Like so many of us, he was touched by the width and depth of Darrell's optimism, character, appreciation and love. And, yes, he did have an extraordinary group of friends. He will be missed by many, for a long time."
Darrell shared his love of golf, downhill skiing, fishing, gardening, and many adventures, with passion. Darrell is survived by his wife, Kacey; sister, Cynthia (Cindy) Uptegraft Barry; and nephews, Creighton and Kyle Barry of Vancouver, Washington.
Get the representation you need to feel protected!
Ryan, Montgomery, & Armstrong Inc., P.S.
Request a consultation by filling out the contact form or calling
360-307-8860. We offer appointments during our regular business hours.
We accept Visa, Mastercard, Discover and American Express.